Computer Equipment Movers
Whether we're moving a computer across the hall or moving a high value server across the country, as computer equipment movers, Liberty approaches IT relocations with a level of precision unmatched in the moving industry. We have a full line of specialized packing materials made for protecting computers and other IT equipment. These include bubble wrap, anti-static keyboard bags, plasma TV cartons and specialized rolling corrugated bins.
Expert Computer Movers for your IT Relocation Needs
In this day and age, so many businesses put an enormous amount of time and money into their computer systems and IT infrastructure. At Liberty Moving, our dedicated team of computer moving specialists is skilled in packing, handling and moving your IT systems. We can safely and securely transport:
Computer workstation terminals
Server racks
Printers and fax machines
Multi-function photocopiers
Plotters and scanners
Plasma TVs
Telephone systems
Teleconferencing equipment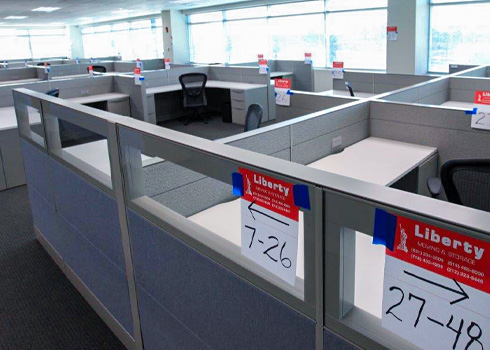 IT Relocation Services Backed by Planning & Precision
Our computer moving specialists will go the extra mile to ensure that your valuable technology infrastructure is carefully packed, relocated, and unpacked. We will inventory all of your equipment (including manufacturer and model #) and check with manufacturers to ascertain special handling needs. As part of our comprehensive IT relocation services, we will work closely with your IT department to coordinate a plan for moving your equipment in a manner that minimizes downtime. This helps to reduce costs and get your staff up and running.
CONTACT NEW YORK'S TOP MOVING COMPANY TODAY!
Get your free estimate by calling us at 1-800-640-4487 or by completing our quick online form!