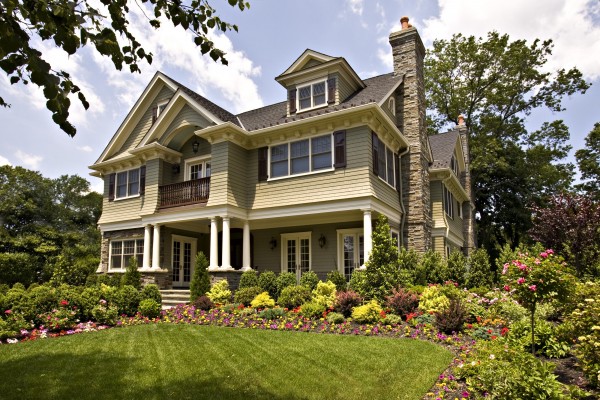 Are you planning a move to or from Garden State, New York? Then consider working with local Garden City movers at Liberty Moving & Storage. This small village is not only one of the wealthiest areas in the United States, but it's a fantastic area to raise a family in without the distractions of the big city.
What Makes Garden City, NY Special?
With a roughly 30 minute commute into Queens and under an hour of travel time to get into Manhattan, Garden City is a great option for commuters who don't want to spend all of their free time navigating their way through a commute.
What makes this village especially unique and desirable is its varied offerings within the town's limits. There's so much to do in Garden City! If you're interested in spending some time learning more about our country's aeronautics history, check out Cradle of Aviation Museum and Education Center, Long Island's air and space museum! With over 75 air and space crafts, 12 cockpits and 30 fun, hands-on exhibits, you're sure to learn something at Cradle of Aviation Museum and Education Center. 
If you're looking for an offering that's more family-oriented, Garden City has plenty of options that are suitable for kids of all ages. The Long Island Children's Museum has a multitude of educational and interactive exhibits, in addition to its live theater and art space. Furthermore, Garden City houses the Firefighters Museum and Education Center. If you're looking to be continually learning and broadening your horizons, you just might fall in love with Garden City. 
Roosevelt Fields is Garden City resident's primary shopping venue. This mall practically has every store you could be looking to shop in. If after a day of heavy retail therapy you're looking for a nice restaurant to end the night in, there are so many options to choose from. Leo's Midway is a bar and restaurant that offers an old-school vibe. The Rose Room is a fun, tucked away speakeasy.
Another fantastic perk of this village is that in Garden City hotels are everywhere. If you have family planning a visit or if you'd like to check out this town for yourself, your lodging options are quite extensive. Whether you're planning to stay for a weekend as a getaway or as you look for places within the village to move, you'll be able to fill up your free time with fun activities while in Garden City!
Residential Moving in Garden City, NY

Moving into a new home can be a difficult process. There are so many moving parts that you, as the homeowner, need to juggle simultaneously. In addition to finalizing the end of your current living situation and packing everything up to getting the logistics of your new residence locked down and having your belongings transported, it's a lot. If you're planning a move with children, it can be even more difficult. Instead of tackling this entire process by yourself, why not reach out to the team of professionals at Liberty Moving and Storage, the premier New York moving company?
At Liberty, we have been performing residential moving services throughout Garden City for decades. With our 80+ years of practical experience, we have streamlined and perfected our process, so we can ensure complete success! Whether you're planning a local or long-distance move, our goal is to make the entire process, from planning to moving day, as stress-free as possible. 
The entirety of our staff are all thoroughly trained on not only our moving process, but in customer service as well. We pride ourselves on our top quality customer service, and genuinely believe that how we work with our customers is as equally important as how we conduct the physical move. 
While the entire moving process is difficult, one of its most difficult elements is finding the right moving company. Throughout New York, moving companies are often engaging in shady, less than perfect tactics to increase revenue, but that's certainly not Liberty Moving and Storage! Whether you're looking for NYC movers to help you relocate to Garden City, or if you're looking to move from Garden City to another area, we'll get you, and all of your belongings settled into your new residence with ease. 
Commercial Moving in Garden City, NY

As mentioned above, Garden City has a lot of varied and interesting spots throughout the village. From fantastic shops and restaurants to educational and entertainment venues, there's a lot happening here. Because of the nature of this bustling area, many business leaders are actively looking for available commercial space with the hopes of moving their company to Garden City. 
If you're lucky enough to find and lease commercial space,  we do not advocate that businesses try to handle the move themselves. You probably think you can handle it with ease, but take a moment to think about all of the functions of your current role. Between overseeing your employees, handling your day-to-day duties, and looking forward to your company's future, will you be able to dedicate the time and energy into planning and executing a full office move? It's unlikely. 
You might think this is a great task to delegate to your employees, but do you want their productivity to fall as they redirect their focus towards the move? Instead of adding more stress and tasks onto your plate, or your employee's plates, why not reach out to the team at Liberty Moving and Storage? We don't exclusively do household moving; we offer our commercial moving services as well!
In addition to our decades of experience, we are also a United Van Line agent, meaning we'll have complete access to United's vans. Because of this, we are confident in our ability to get the entirety of your current office— from furniture and boxes to technology and appliances— into one of our vans and safely transported to your new commercial space. We'd love to be your office movers!
Make Liberty Moving and Storage Your Garden City, NY, Movers

It doesn't matter where you're moving. If you're looking for a long distance or local moving company, whether it be for your residential or commercial space, look no further than Liberty Moving and Storage! What other New York moving company has over 80 years of practical, hands on experience and is eager to work with you throughout every aspect of your move? No one should have to orchestrate a move on their own! 
Whether you're moving to Garden City or moving out of the village, reach out to the team of professionals at Liberty Moving and Storage for a free moving quote today! Our team of professional movers are ready to work with you throughout the entire process. Whether you need help mapping out an actionable moving plan, or if you just need help transporting your belongings to your new location, we've got your back! Give us a call today for more information!
CONTACT NEW YORK'S TOP MOVING COMPANY TODAY!
Get your free estimate by calling us at 1-800-640-4487 or by completing our quick online form!