Liberty Moving & Storage Co. is committed to protecting buildings that we're relocating customers to and from. Many inexperienced moving companies are too concerned with getting a move done quickly that they damage walls or carpets in buildings during a commercial move. Liberty adheres to strict building moving protection guidelines for commercial moves that will help to eliminate any potential claims problems.
Building Moving Protection
We will protect your new carpeting and tile flooring by placing ¼ inch masonite runners on the hallway floors.
We will protect doorways by fastening bumper pads to the doorjambs.
We will protect the main entrance door by covering it with door pads.
We will protect the walls of heavily trafficked hallways with Koroflex during the move.
We will staff your move with trained full time workers who understand the importance of safe moving practices.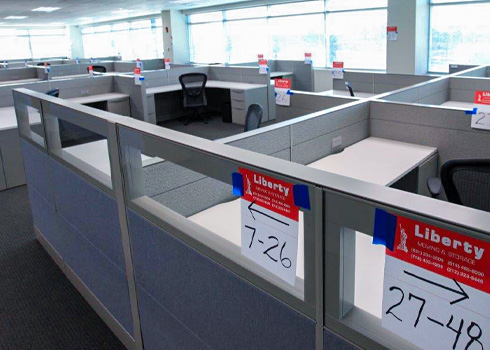 We Take the Time to Protect Your Facility
The Liberty Building Protection Program starts with a comprehensive evaluation of your facility to learn the layout of hallways, exit points, elevators, etc… Our relocation consultant will be happy to meet with you to discuss any issues that are important to you concerning relocations to and from your facility. This evaluation is part of the moving protection services we provide to our relocation customers.
Liberty maintains a broad insurance program insuring our liability to the relocation customer and public alike up to $5,000,000 for general liability and workers compensation. We will provide certificates of insurance upon request to building management departments.
CONTACT NEW YORK'S TOP MOVING COMPANY TODAY!
Get your free estimate by calling us at 1-800-640-4487 or by completing our quick online form!